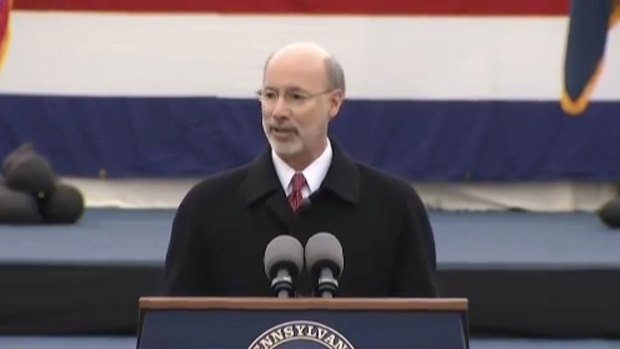 This morning, newly-elected Pennsylvania Governor Tom Wolf temporarily suspended the imposition of the death penalty in the Commonwealth.  This moratorium on executions applies to 186 currently pending death penalty verdicts, as well as any future convictions.  His decision was prompted by the scheduled execution of Terrance Williams, 48, who has been on death row since being convicted of killing a church volunteer in 1984.  Governor Wolf cited the wave of exonerations of death-row inmates in recent years as one of the primary reasons for his decision, but at the same time emphasized that his action was in no way tied to any feelings of sympathy for the inmates or concern over the validity of their individual verdicts.  Governor Wolf also pointed to a pending task force report commissioned by the State Senate a few years back, that is set to be released in the near future.
The District Attorneys Association and the Pennsylvania State Troopers Association  called the decision a "misuse of power" and a worrisome development of the Governor's own personal beliefs circumventing the duly-enacted law in the state.  Meanwhile, other groups including the National Association of Criminal Defense Lawyers and Philadelphia Catholic Archbishop Charles Chaput celebrated the decision.
Only three individuals have been executed since the death penalty was reintroduced in Pennsylvania in 1978, and all three individuals asked to be executed.  Thus, regardless of whether Governor Wolf's decision is legal, and regardless of how one feels about the morality or effectiveness of the death penalty, it simply cannot survive a cost benefit analysis. In my opinion, pursuit of the death penalty has cost Pennsylvanians hundreds of millions of dollars. In return, the only benefit to the taxpayers is that three defendants who asked to be executed were executed (they got their wish). The moratorium is long overdue as it will relieve the state of the financial burden of carrying the significant costs of capital sentencing and appeals.  
The State Troopers Association has already raised an objection and pointed out one significant consequence of the Governor's decision in the Eric Frein case, where prosecutors have already announced their intent to seek the death penalty against the northeastern PA sniper who allegedly ambushed two state troopers and spent weeks on the lam. A straight moratorium prevents the imposition of the death penalty in all cases – even his.
What do you think of the development?  Comment below.