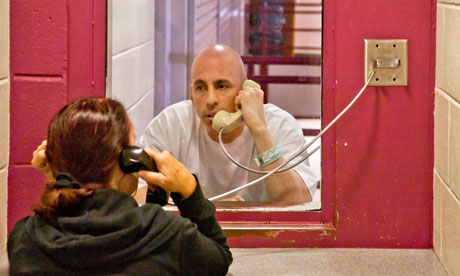 Those who have visited a prisoner in jail or seen it done on re-runs of Law & Order on television will recognize the "telephones" on either side of the secure plexiglass that separates the visitor from the accused or convicted.  The question the State Supreme Court will consider under a recent allocatur order from earlier this month is whether or not these conversations are subject to the Pennsylvania Wiretap Act.   The case is Commonwealth v. Fant.
The Superior Court recently reversed the Clinton County Court of Common Pleas decision that the state's interception of recorded visitation conversations ought to be suppressed, with Judge Stabile writing that "[t]he act does not distinguish between external and internal telephone calls from or to an inmate in a county correctional facility."  The Wiretap Act, which requires a warrant for secret recordings, has several exceptions based on the individual's reasonable expectation of privacy, as well as a more explicit exception that "telephone calls" may be intercepted and recorded by a correctional facility and then forwarded to law enforcement as evidence.   The trial judge believed that the telephone-like tool was not actually a telephone within the legislature's intended meaning under the statute.   The Supreme Court has agreed to take up the case as an issue of first impression in the Commonwealth.
This case has important implications for inmates across the state, who should be reminded that anything they say and do while imprisoned may be used against them.  Nevertheless, regardless of how the Court decides this matter, conversations between inmates and attorneys will remain confidential, at least according to the wiretap act.
Stay tuned for updates as this case is briefed and argued later this year.